Connect devices to Soracom over WiFi, ethernet, or satellite
Soracom Arc is a secure link service that allows compatible devices to connect directly to the Soracom platform using any standard internet connection, such as WiFi, Ethernet, or satellite.
IoT devices can now establish a secure end-to-end connection directly with Soracom, providing authentication and integrity – no matter the configuration of the underlying network connection.
In turn, devices that use Arc to connect to Soracom are able to securely access platform services just as if they were connected using a cellular connection, including:
Soracom Arc Features
Securely connect devices to Soracom using any internet-connected network interface, such as WiFi, ethernet, even satellite.
Access most Soracom platform services, even those typically only available through a cellular connection.
Mix multiple connectivity technologies while controlling your entire network through a single, unified management platform
Designed to work seamlessly with Soracom Air by switching backhaul technology depending on which connection technology is available on the edge.
Soracom Arc Architecture
Soracom Arc uses WireGuard® , a lightweight open-source VPN implementation that employs the latest encryption technologies, in order to create a secure connection between a device and the Soracom platform.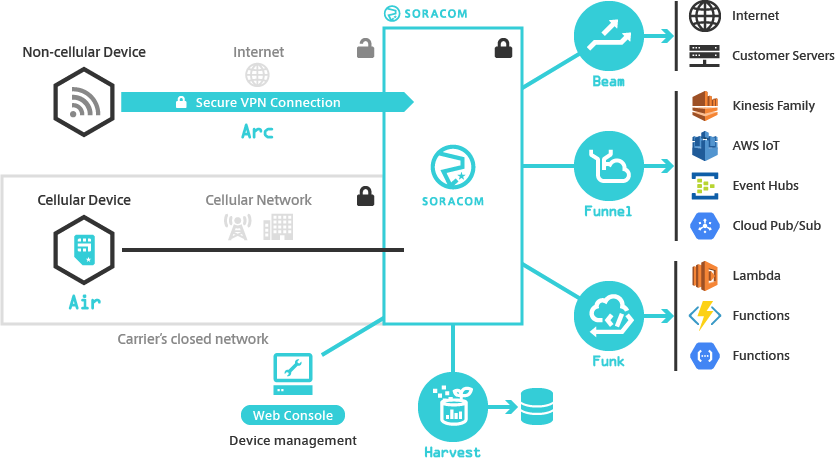 To learn more about connecting your device to Soracom over WiFi or Ethernet, please visit the Soracom Arc developer docs.
Accelerated prototyping
Experiment with Soracom's advanced IoT networking services over WiFi or Ethernet in the lab from your desktop. No need for committing to a hardware platform or dealing with cumbersome developer tools.
Free tier: Your first Soracom Arc device is on us and we also include upto 1GB of data transfer every month for free.
Switch to cellular when ready: Build your IoT prototype with WiFi, then effortlessly migrate to cellular without the need to re-engineer everything or start from scratch.
To get started, create your free Soracom account now.
Better credentials management
Managing credentials for each device presents a significant challenge as IoT deployments grow. But devices activated or managed with Soracom can take advantage of zero-touch provisioning to obtain the configuration and credentials needed to connect to the Soracom Arc endpoint.
A single SIM ID: Data transmitted either by Air (cellular) or Arc (WiFi/ethernet) can be stored in Soracom with the same SIM identity.
Zero-touch provisioning: Obtain the configuration and credentials required to connect to the Soracom Arc endpoint through SIM authentication.
Connect with code or console
With Soracom Arc, IoT developers have access to a powerful toolkit for connecting devices into Soracom over WiFi. New virtual SIM connections can be created either in the Soracom user console, or with a CLI and just a few lines of code.
View Soracom Arc Developer Docs
Compatible devices
Connecting to Soracom over WiFi or Ethernet with Soracom Arc works on any device that supports the acclaimed WireGuard protocol.
This includes many Linux-based single-board computers such as Raspberry Pi, BeagleBoard, nVidia Jetson, and more. You can view a comprehensive list on the WireGuard website.
Soracom Arc Pricing
The first Virtual SIM you create in your Soracom account with Arc can be created at no additional cost, and you can transmit up to 1GB of data between your device and Soracom for free (upload and download combined).
After that, the following fees will apply:
Initial fee: $0.50 per Virtual SIM
Basic Fee: $0.80/month
Data usage: $0.20/GB